Creation
Speed ​​in creation and simplicity in manufacturing, the vision of prototyping has greatly evolved since the coming of 3D printing a few years ago. Today these new technologies allow us to imagine an object and manipulate it a few hours later.
It is with enthusiasm that we move forward in our projects, 3D printing is at the heart of our developments and we believe that this technique brings many advantages in the design of a product.
Rapid prototyping
Rapid prototyping is the key to success in product design, this method brings together three essential advantages: time, cost and complexity of forms. 3D printing by additive manufacturing technique combines these 3 advantages:
Quick manufacturing of parts, it take a few hours to create an object.
No tool cost and low cost of materials, additive manufacturing does not require any tool, and the materials used (ABS, Nylon, PLA, etc.) are inexpensive.
Complexity of forms produced by 3D printing (inclusion, cavity, etc.), difficult to do by processes such as machining.
MEONYS relies on the use of FDM (Fused Deposition Modeling) 3D printer, and supports you in the prototyping of your products:
Rapid prototyping of plastic parts
Manufacturing of prototype parts, demonstrators and pre-series
Assembly and construction of structures
3D printing
The use of 3D printer with double extruder allows us to print your parts in 2 colors or 2 different materials.
ABS

ABS (Acrylonitrile Butadiene Styrene) is a thermoplastic widely used in the industry. It is found in Lego, car bodies. ABS has many qualities, it is flexible (elastomer base), it is shock resistant, has good mechanical resistance and can withstand low temperatures (-20 ° C) as relatively high (80 ° C). In 3D printing, ABS gives very good results in terms of surface condition and mechanical resistance. ABS is available in many colors (blue, black, white, gray red, green, etc.).
HIPS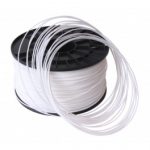 HIPS (High impact polystyrene) is a material used in industry for the production of disposable plastic tools, toys and cases. From its French name "Polystyrène choc", HIPS has characteristics very close to those of ABS. Improved impact resistance. HIPS is mainly used as a support material in 3D printing and can completely replace ABS.
Nylon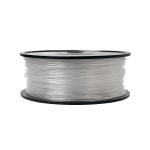 Nylon is a polyamide-type plastic used in industry as a textile fiber and in mechanical parts. Its main characteristic is its friction resistance which makes it ideal for parts in contact and repeated friction (clips, slides, etc.).
PLA
PLA (polylactic acid) is a biodegradable polymer made from renewable materials (corn starch). It is commonly used for objects intended for food contact because of its non-toxicity. Like ABS, PLA is available in a wide choice of colors (blue, black, white, gray red, green, etc.).
Special materials
MEONYS also offers many other special materials on request.
Upload your files, we do the rest!
Send your 3D files (stl, obj formats, etc.), desired material-color and quickly obtain an estimate of the unit manufacturing cost, x5, x10 series, etc.
Our fast 3D printing service in the Aix-en-Provence Marseille region allows you to order and collect your parts on site in a few days. We also ship throughout France.
Contact us, we will study your project and send you a personalized quote.